Serving The DFW Metroplex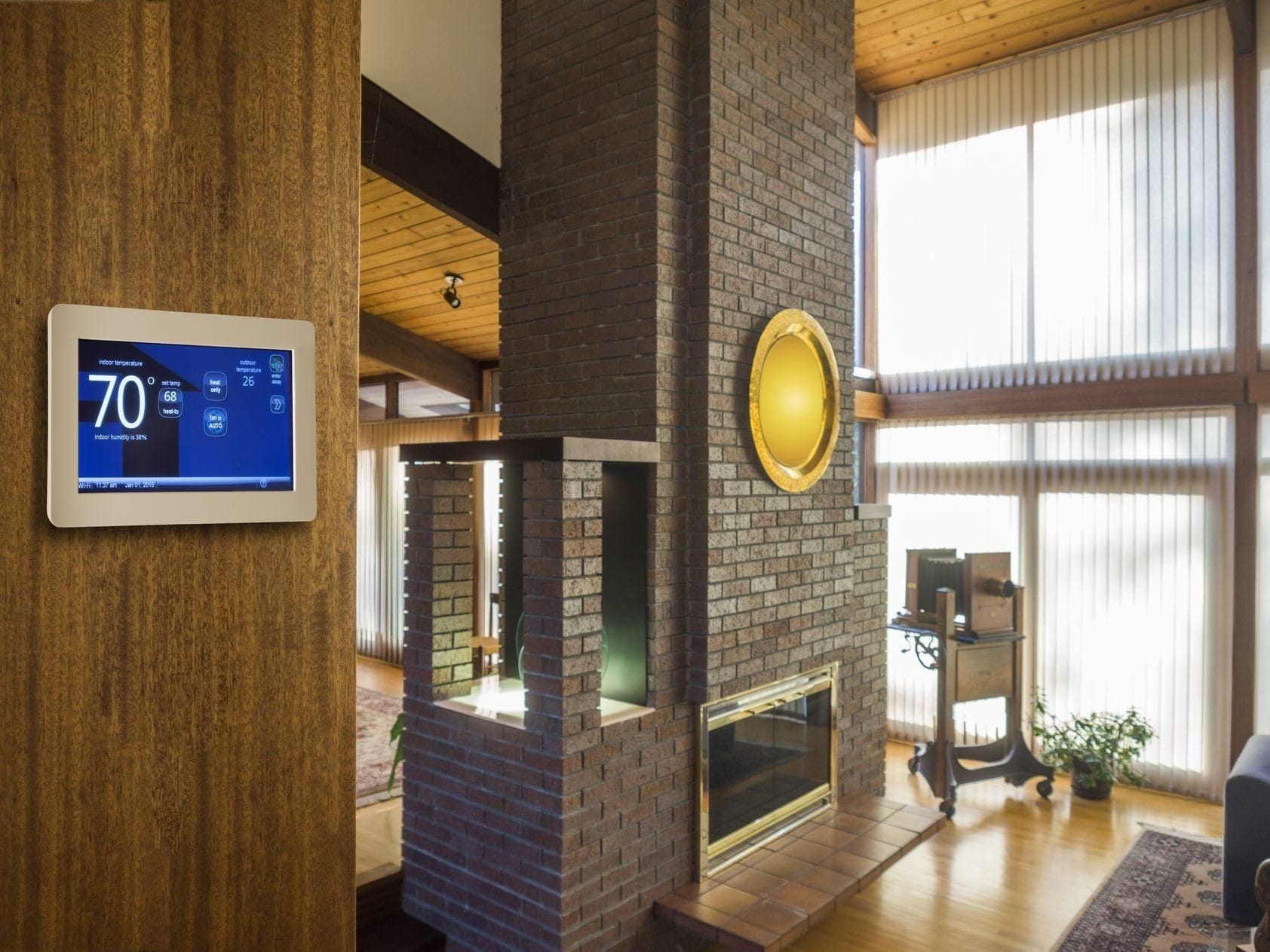 Honesty And Comfort Solutions Are Our #1 Priority
Comprehensive HVAC Service in Dallas, TX
If you're in need of a Dallas, TX, HVAC contractor, don't hesitate to contact Dalltex Air Conditioning & Heating right now!
Whether you're a large business CEO or own a small home, maintaining comfort in your environment is important. Sometimes that entails fending off the blistering Texas heat, which requires dependable air conditioning. And for those cold winter months, you'll need a properly functioning heater. Adequate ventilation is also vital, and shouldn't be forgotten. For these necessary services, consider using a true professional for a contractor. Our technicians are licensed, insured, and committed to excellent workmanship.
We employ hard-working, experienced technicians who familiarize themselves with all the latest techniques. We have an A+ rating with the BBB, and our employees are all prompt at completing projects. In addition, our team is NATE certified and environmentally conscious, providing our clients with numerous high-quality services including:
For your Dallas, TX, HVAC contractor, look to Dalltex Air Conditioning & Heating. We proudly serve the Dallas and surrounding areas, and we will be happy to address any of your questions. We're family owned and operated, and we can guarantee your satisfaction. Call us today!

Thanks to Hector for installing or ac units in or home. his a life saver good service Highly recommended.

Hector is a problem-solver. I trust him and his judgement. He's maintained my system for years and repaired it cost-effectively when needed.

- Thorne Anderson. 3/8/2020

We have used Dalltex for several years and they always do a great job. They are very thorough and always go above and beyond to make sure that we are satisfied. They are professional and great to work with, always available when we need something. We compared a few different companies and they were very reasonably priced!

- Daniel Perez. 2/19/2020

Awesome service, first day of serious heat and condensor motor goes out. DallTex was there and fix the problem! Very reasonable pricing, excellent service. Highly recommend them. I did not have to wait three days.

We found DallTex services to be extremely professional, knowledgeable, as well as really great prices. DallTex company is honest and stand by their services. if you're looking for great service and dependability, DallTex is it! A big Thank you Hector & Miguel, you're the best! Cocoa Carr

Dalltex did a great job. They were very careful to keep everything clean while working inside. They are very professional, and really nice to work with. We shopped around and they were very reasonably priced!

Great service, refreshing to find an honest company that tells you exactly what's wrong and fixes it. Anyone looking for good AC company this is the company.

- A&M Barbershop Grand Prairie TX. 2/28/2019

I have known Hector for a long time since the first time he came to fix my air condition and he did an amazing job. Then I was having problems with my water heater and I called him and he came and fixed my problem in no time. He is very reliable and dependable and if you are looking for an honest man for help he is the one to call. Quick service and reasonable prices. Thank you Hector for everything.

- Esperanza Cipriano. 9/5/2018

The best there is!!! They've provided excellent service to my whole family and will come out day or night. Hector is an honest guy and the most affordable

- Lauren McKinnon. 8/6/2018

I highly recommend Dalltex services my husband and I were very pleased with the quick response and quality of work. I called at 7pm and Hector arrived at my house within 45 minutes. This is the busiest time of the year and he made sure to fit us in. He is willing to educate you on what you should do to keep your system in good working condition and make sure you understand everything that needs to be done and why. Very honest and trustworthy. Thank you again Hector we will be calling you from now on and I have also started using him at the company i work for.

- ChandlerChic . 6/20/2018

Great AC company, Hector is always taking care of our business as and when we need him. He responds quickly. Great company to hire for your HVAC needs. Thank you

- Oralia Villasana. 5/4/2018

Stephanie Dickason, Fantastic! When I had my AC unit go out last summer in 108 heat, Hector was able to completely replace my unit quickly at a very reasonable price. His is the only heating/AC company I will ever use!

- Olga Castillo. 4/28/2018

Hector rocks! My wife and I have a maintenance plan and called when AC stopped blowing cold. He showed up within an hour to help. It ended being a separate electrical issue but he helped figure out the problem. Do yourself a favor and hire Dalltex. Hector does great work, has great pricing and will work hard for you!

- Jonathan Allen. 4/23/2018

No problem too big or small! We found Hector and Dalltex when our heater went out last January and needed a brand new unit ASAP. We gathered multiple bids but Hector was local, had great pricing and seemed the most responsive. We've had to call him for a few other small issues (normal maintenance unrelated to the install) and he makes it out same day or the following morning. We definitely recommend him to anyone looking and will be giving his cards to our HOA members and neighbors at our condo complex. Thanks for everything Hector!

I found Hector four years ago. He has been called to one of my two homes about four times and each and every time he was on time and solved the problem perfectly and realistically. His prices are fair too. Reliable and affordable and honest. You can't do better.

- Chester Hunter. 4/19/2018

Tried to install a Nest on my own and ended up breaking my entire system. DallTex serviced my unit the same day as I called, and everything is working as expected now. Couldn't ask much more, perfect 5 stars from me.

I highly recommend Dalltex services my husband and I were very pleased with the quick response to our call they were very prompt, professional, honest and patient. We received service from them last week June 15, 2017 our AC unit went out I prayed for the right person to help us I googled air service in Dville and came across Dalltex I called and spoke with Hector 6ish pm my he took care of us with another unit was up and running by 930pm the hold up was us I must add every review that I read on his company I can attest to his price was excellent lower than all the others and he didn't seem to try and get over on us you could tell he take pride in his work and a true man of integrity again I would recommend anyone in need of air and heating services to this company I will also be writing a review rating through the Better Business Bureau. EXCELLENT excellent excellent customer service excellent personality he was our God sent "angel " in our greatest time of need. God Bless you Dalltex! I pray for even more business (customers) to be sent your way!!

- Jarita Mckinney. 5/27/2017

Excellent! I needed our entire 2 unit system replaced, all new ductwork, attic insulation, and replacement of 2 attic fans. I spent almost a month having companies come out to provide estimates. Of the 15 companies who came out to provide estimates, only about 6 actually returned one. Of those, Hector's price was thousands less than the best estimate, and included everything whereas the other estimates were just for the units. But that's not the reason I went with Hector. I went with Hector because of all those who came out to provide estimates, Hector was the only non-salesman. He completed the job when he said he would, and exceeded my expectations. You'd be a fool not to call Hector at DallTex if you have HVAC needs.

- Dobber McLoud. 5/19/2017

I have been using Hector for repairs at my business, Cafe Madrid, and have been VERY pleased with his quick and knowledgeable service! He has saved us money and is always so quick and efficient in responding to our repair needs. He was able to repair a unit that another company told me was not repairable and that I would have to purchase a whole new system!! Hector repaired it and saved me thousands of dollars!!! I wish we would have known about him years ago. Thank you, Hector!

- Donica Jimenez. 10/1/2016

I got home from work and my air conditioner was broken. The temperature in my house was in the 90s. I called several place before Dalltex just because they came up faster on the Google search and none could come out till the following day or had a ridiculous dispatch fee. I called Dalltex and within 20 minutes had someone here. I worked with Hector and he did an incredible job. He was honest and gave up front pricing and walked me through my different options. He was then able to get me fixed up within an hour. Incredible service for a good price. Highly recommended.

- steven lackowski. 8/20/2016

We recently moved into a home that we are completely renovating. Hector and his staff were very efficient and worked diligently. Within a matter of time they had 2 units going! Dalltex is very professional, Hector took his time to explain every single thing that needed to be done in our old home that was built in 1937. Thank you Dalltex for working on my home in the middle of a Texas Summer!

- Daisy Noyola. 6/15/2016

Recently moved into a new home and the A/C went out mid-day. We thought it was a thermostat issue (or maybe, I am not as handy as I once thought). That being said, we didn't call him until 5pm which we thought might push the fix until the following day. Hector offered to come by within an hour of that call. Hector figured out the issue and spent the next 1.5 fixing the problem. He could've gone home but took our last minute call and did an amazing job updating and installing the new equipment. I would definitely recommend using Dalltex and Hector is the man.

- Price Glomski. 6/14/2016

Hectares was absolutely, positively GREAT! He is a totally awesome technician. He's so nice and friendly. Installed hot water heater and explained every step of the process to me. Very professional and extremely knowledgeable. Pointed out other repairs I need to have done. That's how good he is. Please keep Hectares at DallTex. I'd like to see him rewarded in some way for being an awesome technician as well as an awesome person. He truly represents DallTex in an awesome way. Hector totally rocks!

- Scherylle Smith. 0/24/2016

We were so grateful to have Hector come in within an hour of my phone call! He was thorough, reliable and very helpful and informative. I highly recommend Dalltex for your air conditioning servicing and maintenance needs!!

- nisha mathews. 0/16/2016

Our AC started going out, of course right when it's starting to get really hot again in Dallas. I called a couple places and they were busy and short with me on the phone. I called Dalltex, a company in Oak Cliff (we live in Oak Cliff) and they were courteous and were able to come out within an hour and a half. Hector and his technician were very professional, friendly, and knowledgeable. They diagnosed our problem almost instantaneously. He corrected the issue for a very reasonable fee. My wife and I highly recommend Hector and his company Dalltex. They are great! We will always use them and recommend them to our friends and family. If you are having HVAC issues, give Dalltex a call. They will take really good care of you. We thought we were in for a hot hot hot weekend, but Dalltex was awesome and now we are back to cold a/c. Thank you Dalltex, your company is great!!!

- Cyrus Cooper. 5/12/2015

My AC blower went out and I randomly ended up calling Dalltex to come out and service the unit. Hector showed up within the hour, quickly diagnosed the problem (blown transformer due to exposed wires causing a short) and got me fixed up and AC blowing within 30 minutes. Easy, quick, painless and honest service. Thank you Hector.

I called Hector and asked for a quote on a new central air conditioner. After receiving the quote, I called him back and I asked for references, he was happy to provide 3 references. The individuals names he provided spoke highly of Hector as a person and the quality of his work. Hector did a great job installing a new central air conditioning system at my home. I will call him about any air conditioning or heating concerns.

I've been a General Contractor for 30+ years and I can guarantee that HECTOR OF DALLTEX AIR CONDITIONING & HEATING is the most PROMPT, RESPONSIBLE and PROFESSIONAL A/C MECHANIC I've dealt with in the entire history of my career. On top of the LIGHTNING-QUICK Service, he is also VERY reasonable with his charges. Hector is a MAN you can TRUST! Kathryn E. Hoppa "Kat" President, Floor To Ceiling, Inc. A Commercial/Residental Construction & Remodel Company

- Kathryn Hoppa. 7/1/2013

Hector called me two days ago and made an appointment to check out my air conditioning problem. He was very polite and most of all he was on time. He told me he would be back Thursday morning and he was!!! He has fixed the problem and the house is beginning to cool down. He checked our compressor and told me it was working fine. He did a great job. I will be happy to recommend your company to all of my friends. Thanks, Hector!!!
Free Service Call with Repair (Save $79.00)